artisans
A creative at heart, Nonthu, took the plunge to follow her artistic passions in 2018.  Shuffling her work life as a domestic cleaner to work weekends, she took a 3month course at Learn to Earn, same as Nontembe did...It was through Learn to Earn, that I was introduced to Nonthu to consider for training in beading at SOUL Design in early 2019.
Also originally from the Eastern Cape, Nonthu moved  to Cape Town when she was 10 years old with her mother after her parents separated.  Nonthu has a beautiful, warm energy and often welcomes guests to our studio with her big smile.  Her main focus is beadwork, in particular, creating beautiful Juju Bracelets for our collections.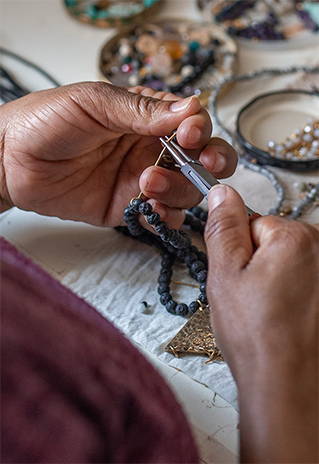 For me, work now has a purpose. I'm just happy to be here.
— Nonthu
've been working with Fred for the last 8 years after initially meeting him in a market in Kenya.
He learnt brass-smithing from his father, it's a skill that has been past down a few generations in his family and he now runs a successful business employing 8 people, including 2 of his brothers.
He creates all our designs by hand, often using traditional techniques of wax casting by making moulds from molasses, then heating brass in a simple clay furnace in the ground and pouring molten brass into the moulds.   Fred is also incredibly talented at intricately cutting brass designs by hand - our favourite example of this skill is in our Acacia Earrings design.
Working with SOUL Design has really helped so many families put food on the table. I hope SOUL will continue to grow and leave a long-lasting kudos.
— Fred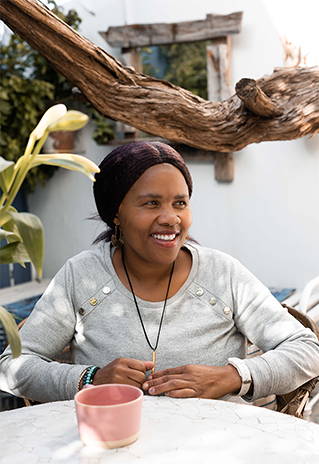 Nontembe is the limbs of SOUL design; she puts it all together and holds it in place.   She was one of the starting blocks of the brand, beginning working with me in 2010 and now, not only, is she a crucial part of SOUL Design, but she is like family to me.  Originally from the Eastern Cape, South Africa where she grew up with a big family of 4 immediate siblings and lots of cousins, she moved to Cape Town when she was 18 years old.
After a few years spent working in a supermarket, she decided it was time for her to do 'something for me' and so she took a placement at Learn to Earn, an incredible NGO focused on up-skilling people in sewing and creative skills.  She was able to start working 'designing things and using my hands in work which I  love'.  It was through Learn to Earn, that I was introduced to Nontembe and she started working for SOUL part time, that quickly grew into full time.
Litha, her little boy, was born in 2014, unfortunately he lost oxygen during his birth and, as a result, he has been challenged by his health ever since recently undergoing open heart surgery.  But this courageous mama continues to amaze us all at SOUL design with her strength and growth, you can read more about Litha's story here.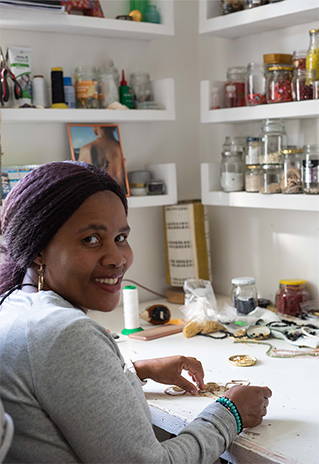 When I'm in the Studio I feel like I'm at home, I'm happy to be here.  When I went through all the trauma of my son's health, I always felt better being here as I get the support and love from SOUL Design.
— Nontembe