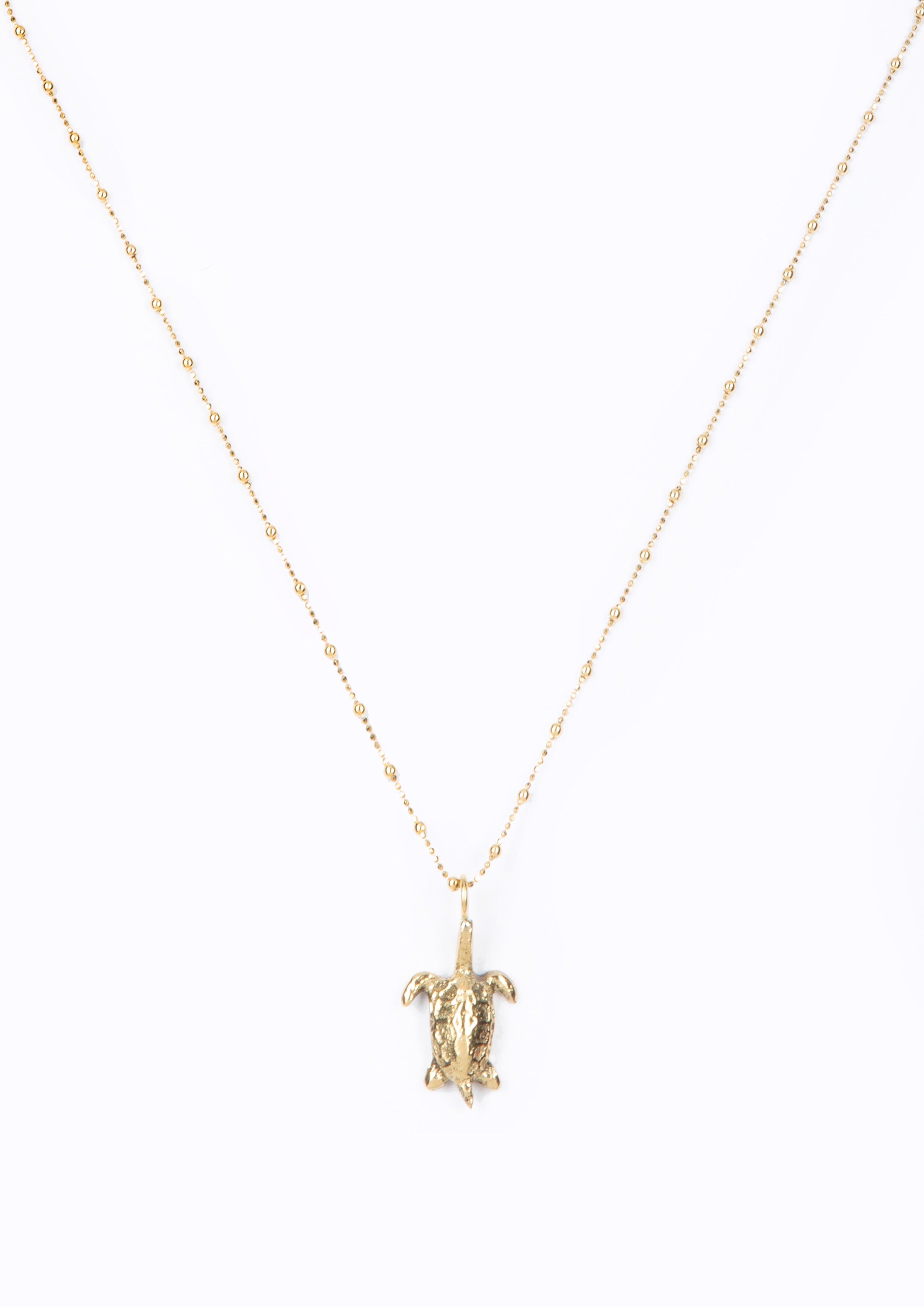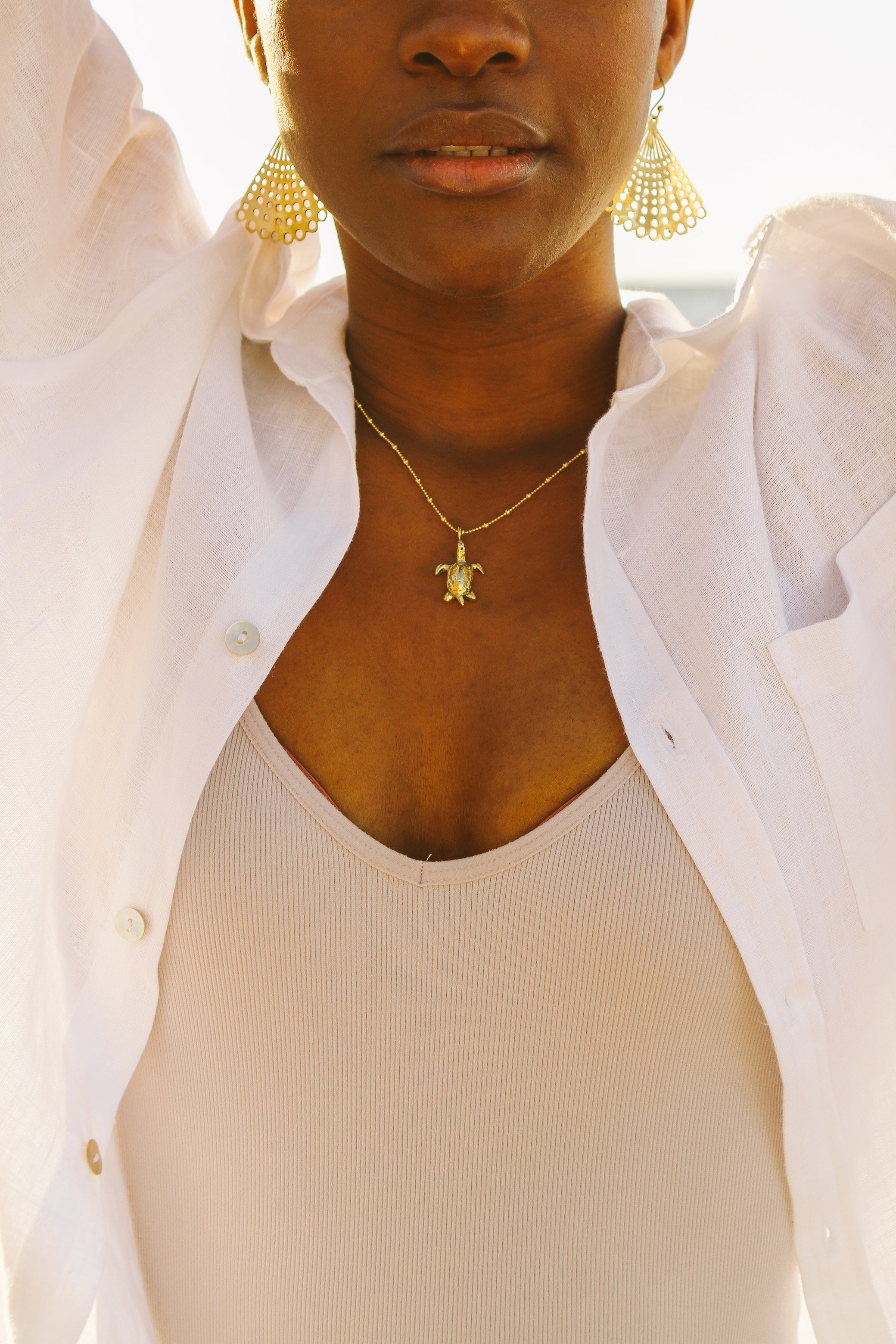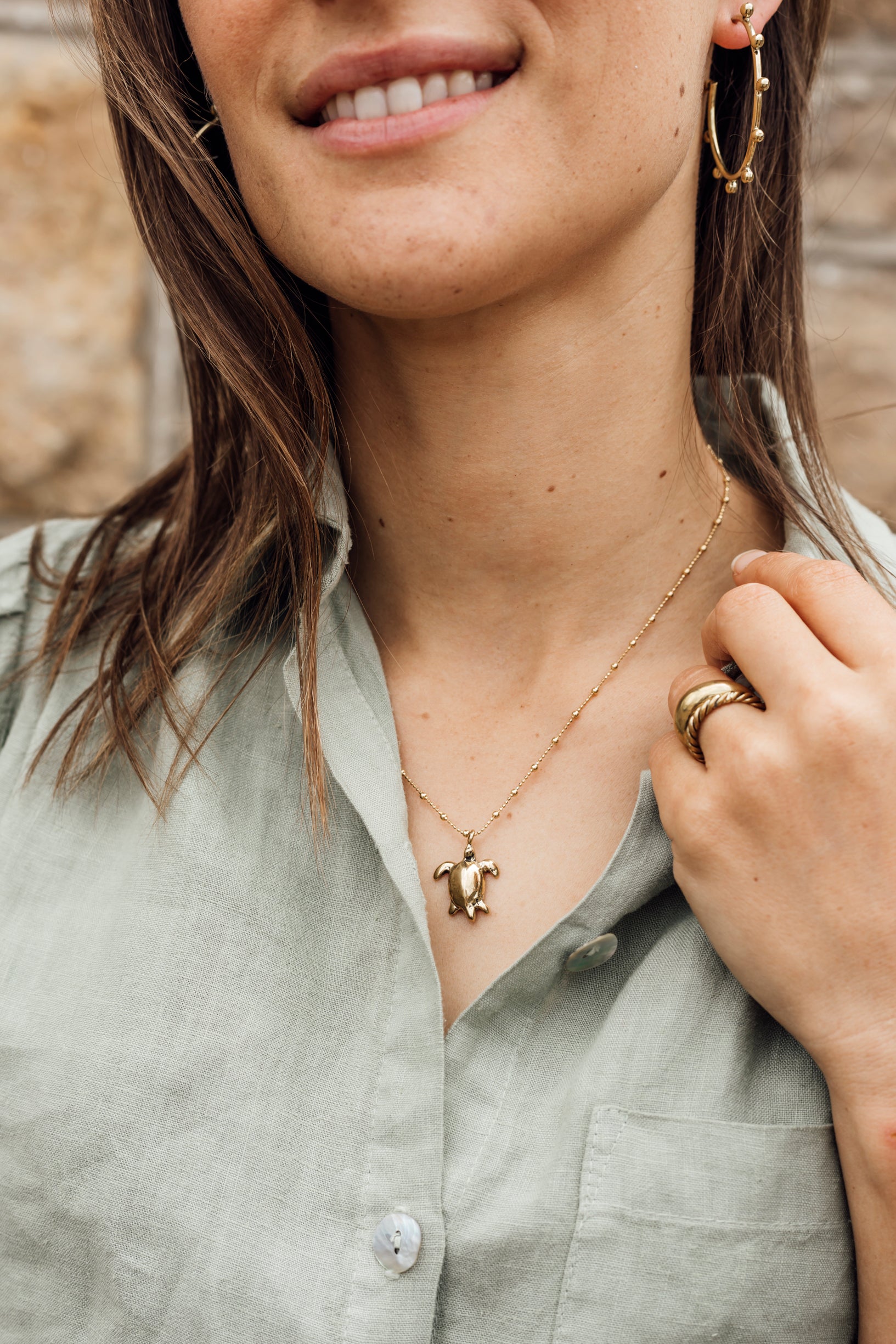 Handmade recycled solid brass turtle charm, made by our artisans in Kenya.  This is on a sterling silver necklace chain, dipped in 9 carat gold. 
There are only seven species of sea turtles on Earth, and all of them except two visit South Africa. Sadly, all five of the species that occur in South African waters appear on the IUCN Red List of Threatened Species. We are lucky enough to have our studio and shop situated directly in front of the very seas where theses endangered turtles swim in.
Our little turtle necklace is an ode to this special creature from the sea and a reminder that all life is precious and we must protect it to ensure its survival.  A lot of plastic makes it way into the sea getting caught up in many sea animals; we do not use any plastics in our packaging and are actively trying to reduce our plastic footprint.  You can find out more about the Sea Turtle and how to support them here:
Dimensions:
Small Dotty Chain: 450mm circumference. 
Charm: 30mm length x 17mm width (at widest point) with 2mm ring.
Free delivery in SA on orders over R800
Free international delivery on orders over R3000
Safe and secure online checkout
Handmade
Every product is handmade and tells the story of who made it, where it was made and what it is made with.
Integrity and Care
We care about all of our SOUL team and we profit share with our Cape Town staff and giveback to organisations and people close to our heart.
African sourced and manufactured
All products are made using materials sourced and manufactured within Africa in collaboration with African artisans.
Caring for your piece
THE NATURAL WAY
Your pieces can be cleaned with a squeeze of lemon juice; gently wipe all around the piece with the juice using your fingers and then wash off with water. 
THE CONVENTIONAL WAY
If you would prefer a more intense clean, you can use a brass polish (found at most large supermarkets) and a soft cloth.  Gently rub the brass polish onto the piece using the cloth so it leaves a film and then using a cleaner side of the cloth buff off the polish to leave a lovely brass shine again.
CARING FOR YOUR NECKLACE CHAINS
Our chains are sterling silver that have been double gold plated in Italian gold. Please remove for swimming and showering to prolong the plating.To gently clean the chains, soak them for 10mins in warm water with a few drops of washing-up liquid.
DROP YOUR PIECES OFF WITH US!
Or drop your pieces at our shop, give us 30mins and we will clean them for you.We also offer re-plating your gold chains, price on request.
Shipping
Shipping within South Africa
All local South African orders placed online are delivered using a door-to-door courier. Free delivery for orders over R800. Otherwise, we ship anywhere within South Africa for a set rate of R70.  Delivery within 3 working days of despatch but please allow an additional 2 working days for gold-plated pieces.
International shipping
All other international orders placed online are delivered using DHL Couriers.  This is a very reliable and traceable door to door service that takes approx 3-5 working days to reach you from despatch.  Free delivery for orders over R3000.  Otherwise, we ship internationally for a set rate of R600.
Returns & Refunds
Online Returns Policy
If you are not completely happy with any item purchased on-line, please email us at info@souldesign.co.za within 7 days of receiving your order.
Please specify why you are returning it and we will handle the return as follows:
1) If the item arrives damaged or is incorrect, you can return it and either: a) exchange it for a replacement; b) return it and be issued with a gift card for the amount of the original purchase; or c) we can provide a full refund (other than for SALE items).
We will cover the costs of the courier.
2) If the item is the wrong size or not what you wanted, you can return it and either: a) exchange it for a replacement; b) return it and be issued with a gift card for the amount of the original purchase; or c) we can provide a full refund (other than for SALE items).The courier costs, in this case, is for your own account and the item must be returned within 14 days of purchase (subject to us receiving your email within 7 days).
All items returned to us must be in ideal condition for resale; unworn, unwashed and any labels still attached.  We will inspect the returned item when they arrive and should we find them in unsuitable condition to be returned, it will be sent back to you.
Beautiful golden turtle
I love my little golden turtle that sits on my neck and reminds me from time to time to take everything a bit more calmly and slowly.